With popular apps like Netflix, Prime Video, and Sling baked in, a single search scours all your available apps to find what you want to watch.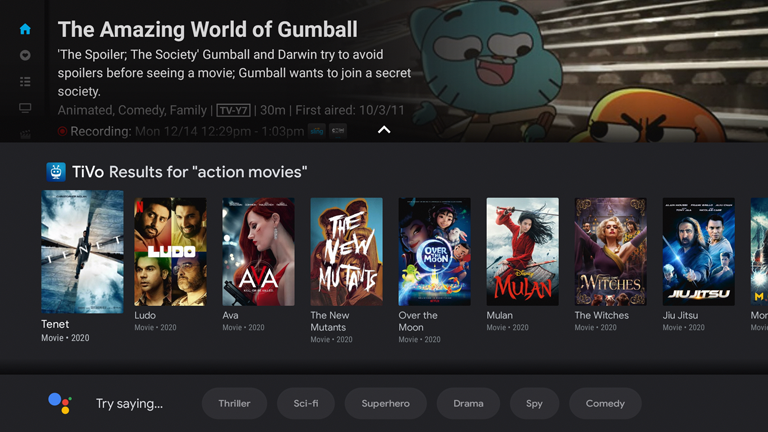 Press and release the Google Assistant button on your remote to search live TV, jump to a show, open an app, or get recommendations to match your mood:
Search by title or actor: "The Bachelor."
Browse: "Find romantic movies" or "Show me action movies."
TiVo Stream results will appear above Google Assistant. The first result is selected by default; press the center button to select it, or press RIGHT to choose a different result.
---
Keyboard Search
To use the on-screen keyboard to search:
Press the TiVo button to open the menu, then select Search.




Use the on-screen keyboard to enter your search term. Results will appear to the right, and will continue to update as you enter letters.




Press RIGHT to move to the results.


Browsing is half the fun! Watch the video for a quick overview on how to browse the TiVo Stream app, then get all the details below.
While the Home screen is your starting point for browsing, browsing doesn't end there. Press the TiVo button to open the menu, and then select one of the categories listed: TV Shows, Movies, Sports, or Kids. Like the Home screen, each of these screens contains trending titles and shows recommended for you, based on your tastes and viewing habits.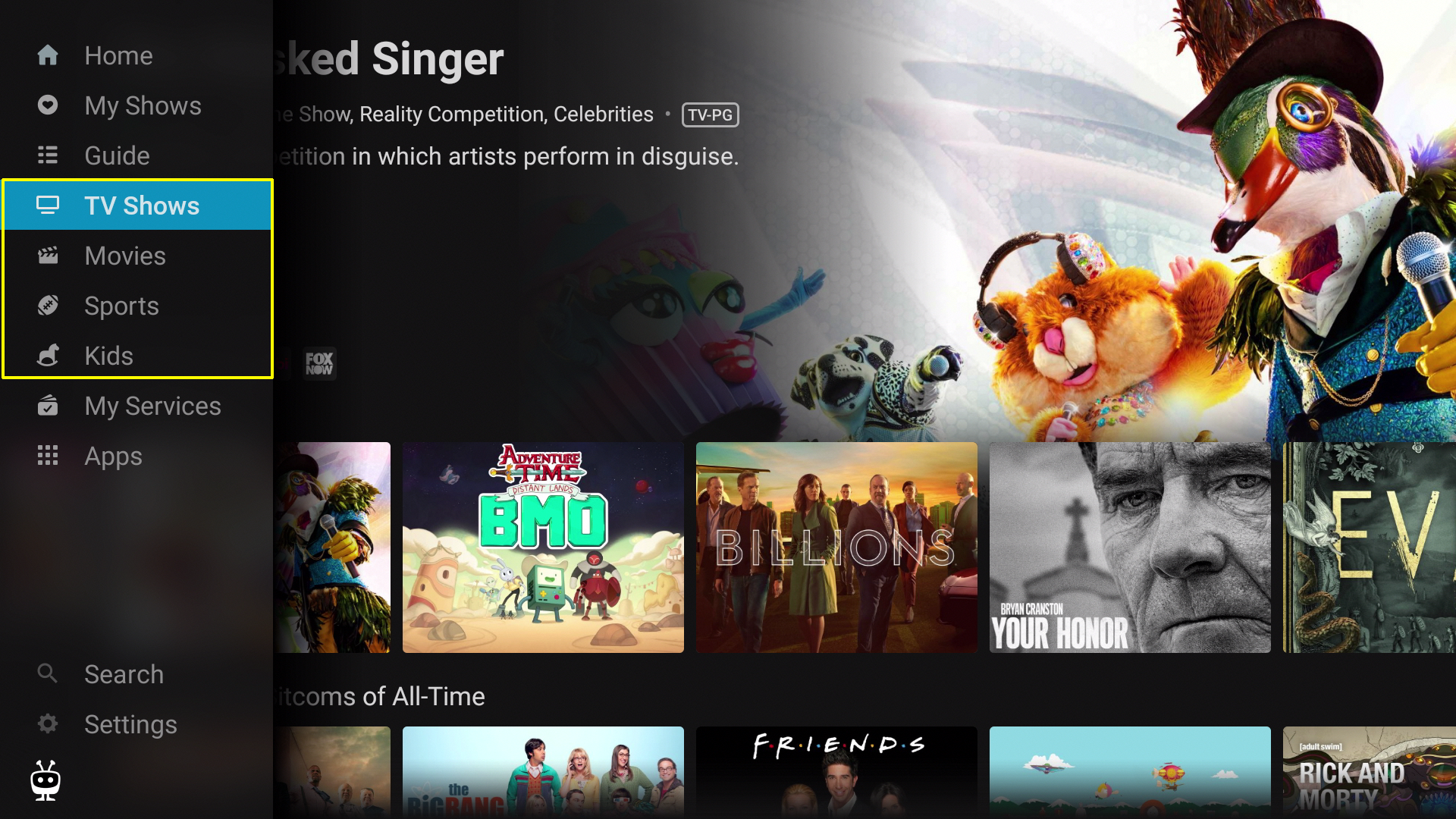 Press and hold OK/SELECT on a highlighted show to add it to My Shows, or press and release OK/SELECT to view the show details page (shown below).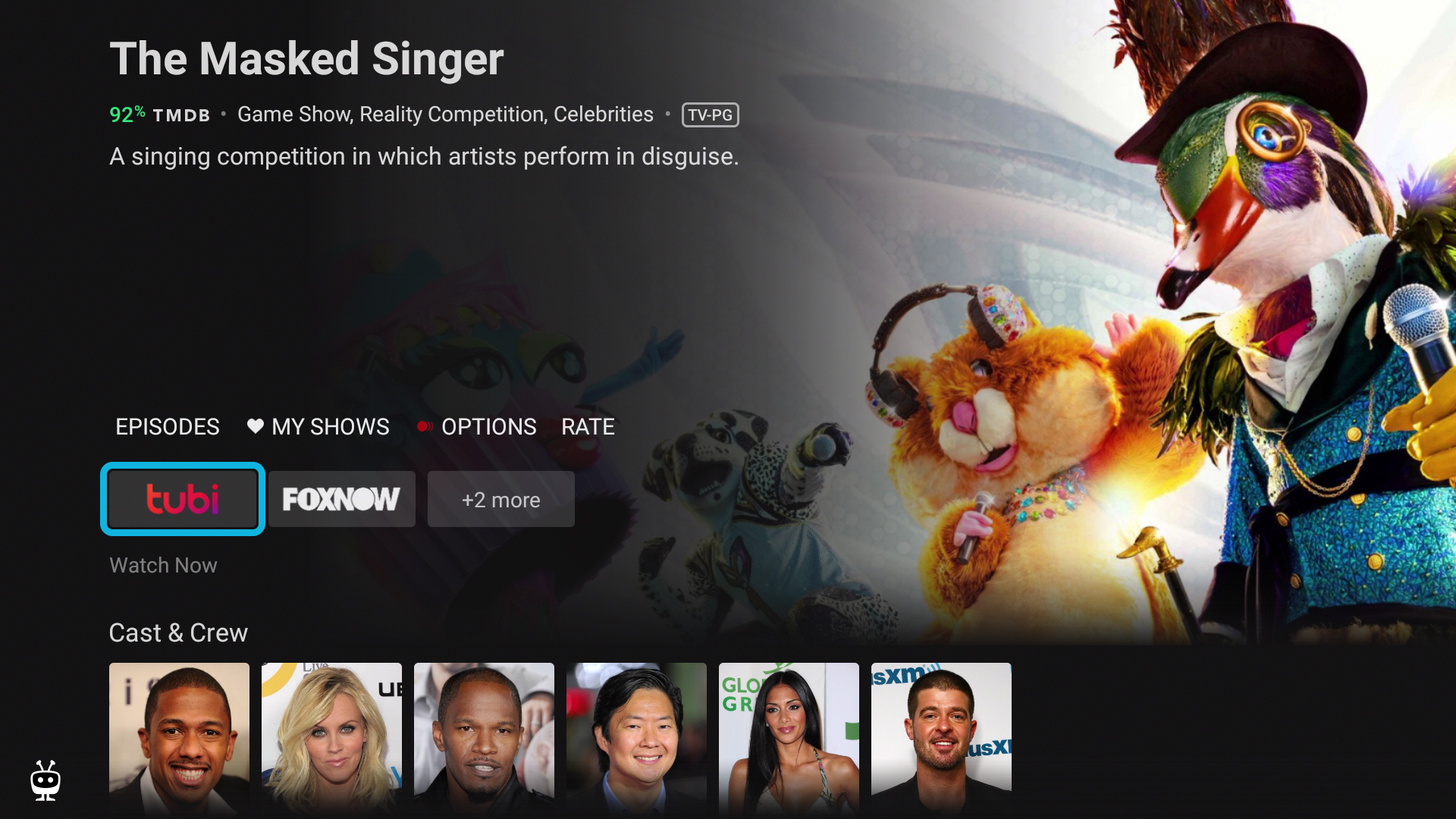 From the details page, you can:
Choose to watch the show from any of your streaming services that has the show available. You'll also see options for streaming providers that are not yet selected in M y Services. If you select one, you'll have the option to sign up.
Explore individual episodes
Add the show to My Shows by selecting +My Shows
Change recording options (Sling Cloud DVR required to record)
Rate the show
Learn about the cast and crew
See recommendations for similar shows
Google, Android, YouTube, Android TV and other marks are trademarks of Google LLC. Sling and the Sling logo are trademarks of Sling LLC. Amazon, Prime Video, the Prime Video logo, and the Amazon.com logo are registered trademarks of Amazon.com, Inc. or its affiliates. Netflix and the Netflix logo are a trademarks of Netflix, Inc. All other trademarks are the property of their respective owners.