My Shows is your integrated Watch List, containing shows from all of your selected streaming apps. No more switching apps or inputs – all of your shows are right at your fingertips.
Watch the video for a quick overview, then get all the details below.
---
Getting Around My Shows
To get to My Shows, press the TiVo button on your remote to open the menu, then choose My Shows.The first time you access My Shows, it will likely be empty; that's because you haven't added anything yet. Once you start adding shows, you'll find them all here.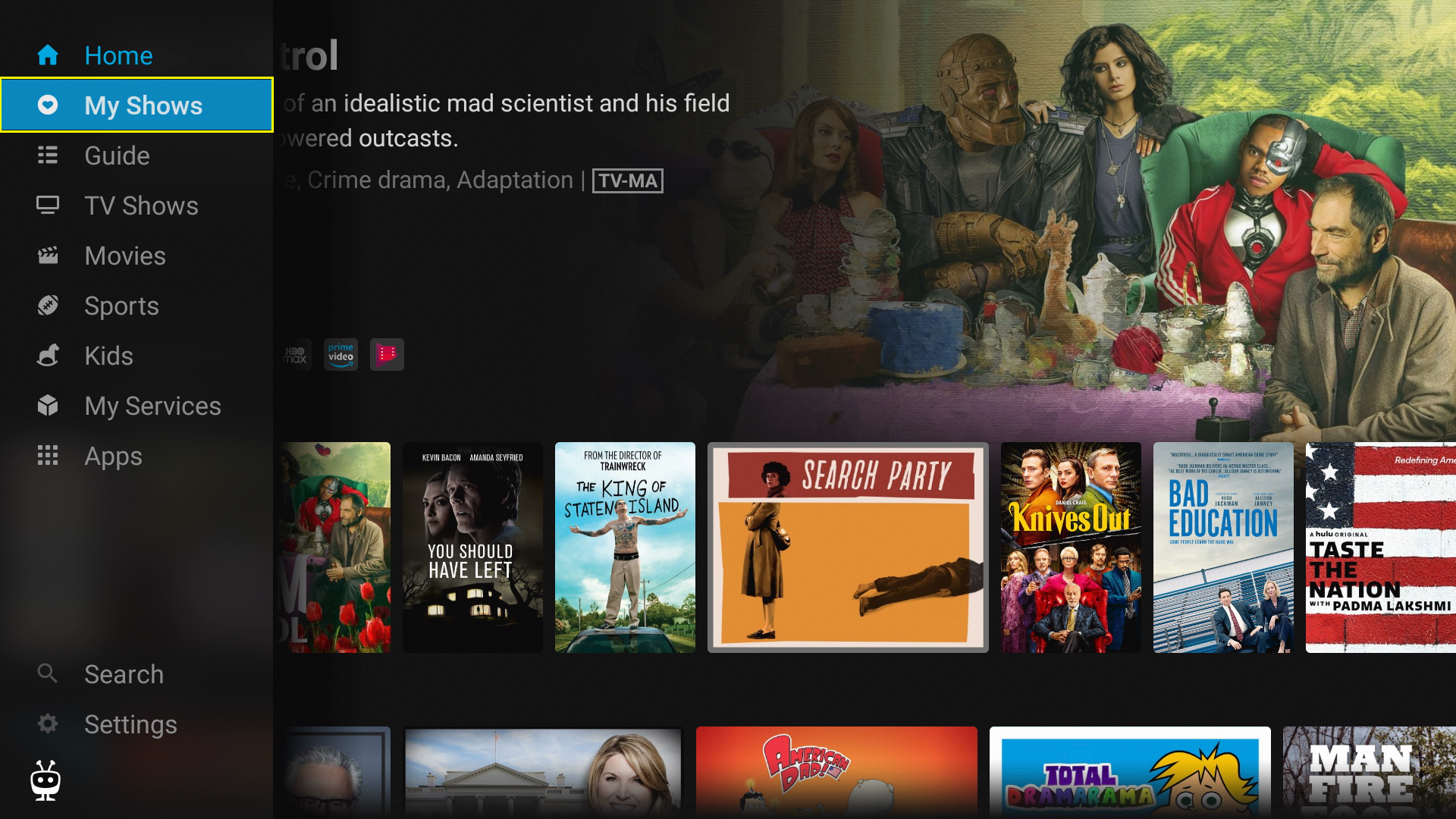 To find what you want quickly, use the filter bar; just press UP from the top of My Shows. You can filter by availability/recording status or by show category.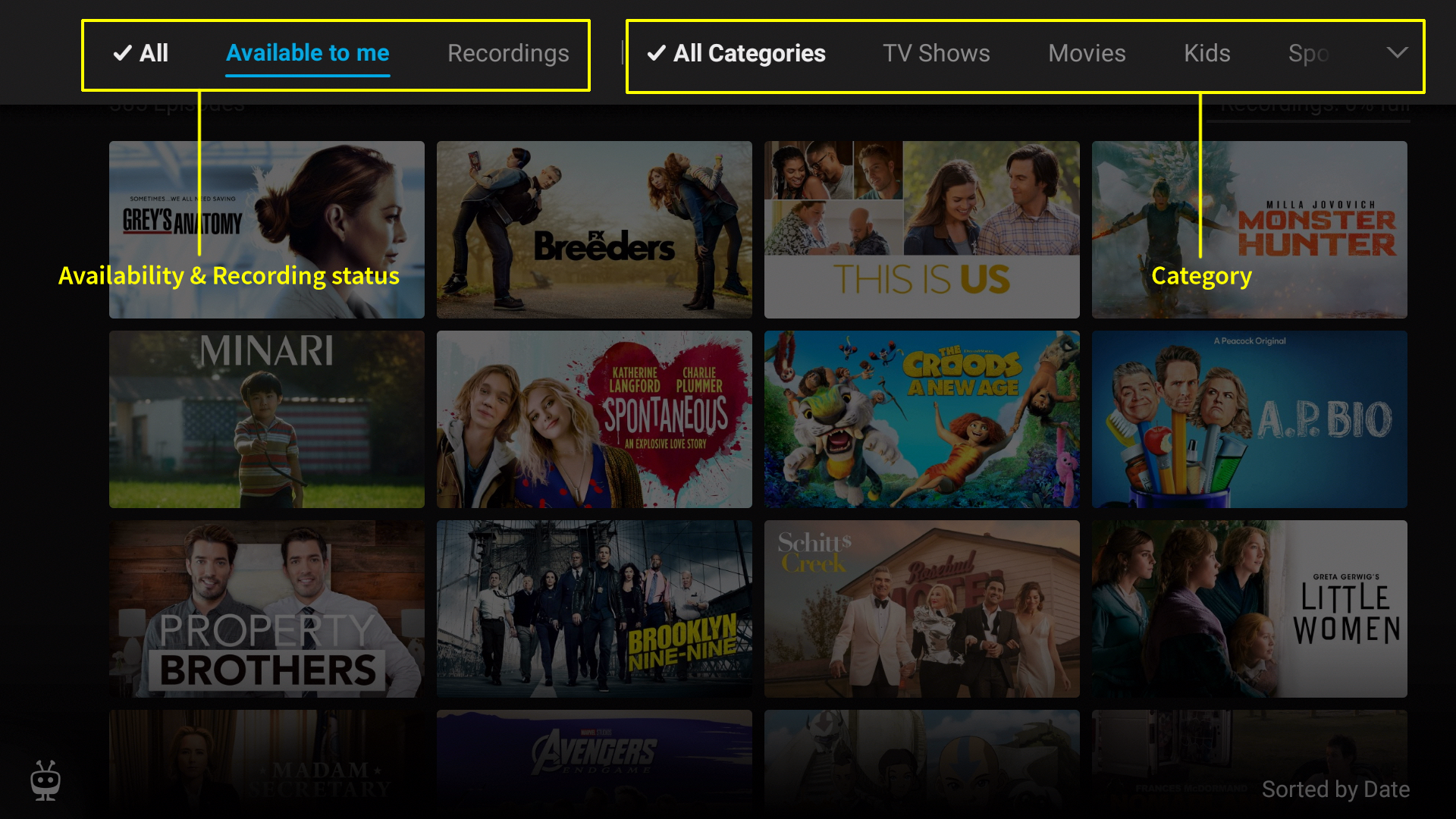 Select any title from My Shows to go to the details screen. 
If you've selected a series, you'll go to a series detail screen. 
If you've selected a single episode, you'll go to an episode detail screen. 
If you've selected a movie, you'll go to a movie detail screen. 
All detail screens allow you to start watching by selecting the streaming app you'd like to use. Depending on the type of show you've chosen, other options on the detail screens may include exploring episodes, adjust recording options (Sling Cloud DVR required), rating the show, or seeing other shows like it.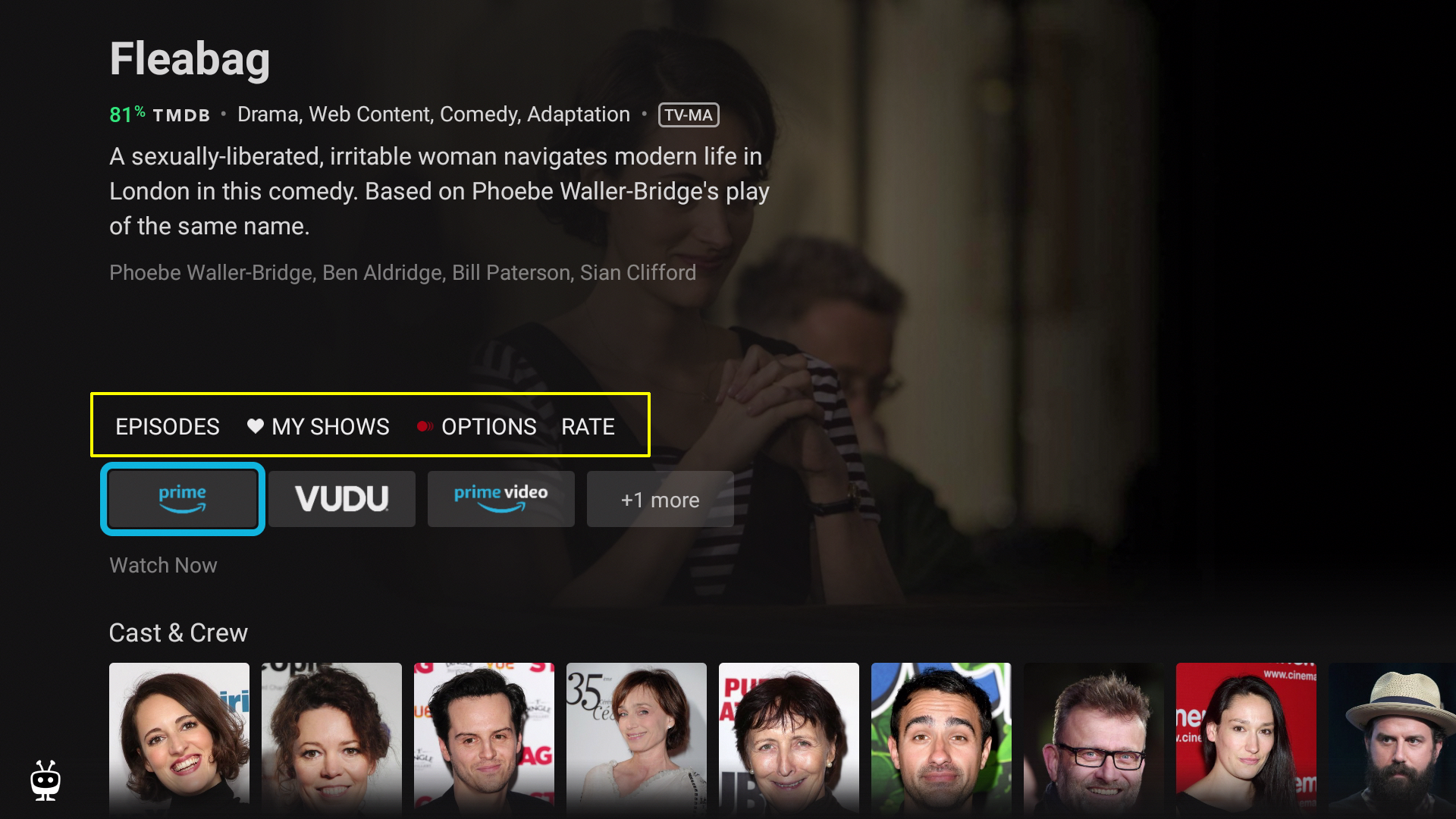 Adding to My Shows (+My Shows)
On a series or episode details screen, select +My Shows to add the item to My Shows. All available episodes will be added, no matter which of your streaming services has it available. Once a show has been added, the + icon is changed to a heart icon, as shown below. (Note that TiVo+ shows cannot be added to My Shows.)

Updating Recording Options (Cloud DVR Required)
When you add a series to My Shows, if is available to record with Cloud DVR, episodes or movies will be recorded as they air. If a series is set to record, you'll see this icon 
 next to the Options button. To adjust which episodes to record (this episode only, new episodes only or all episodes), or to cancel recording all together, select Options.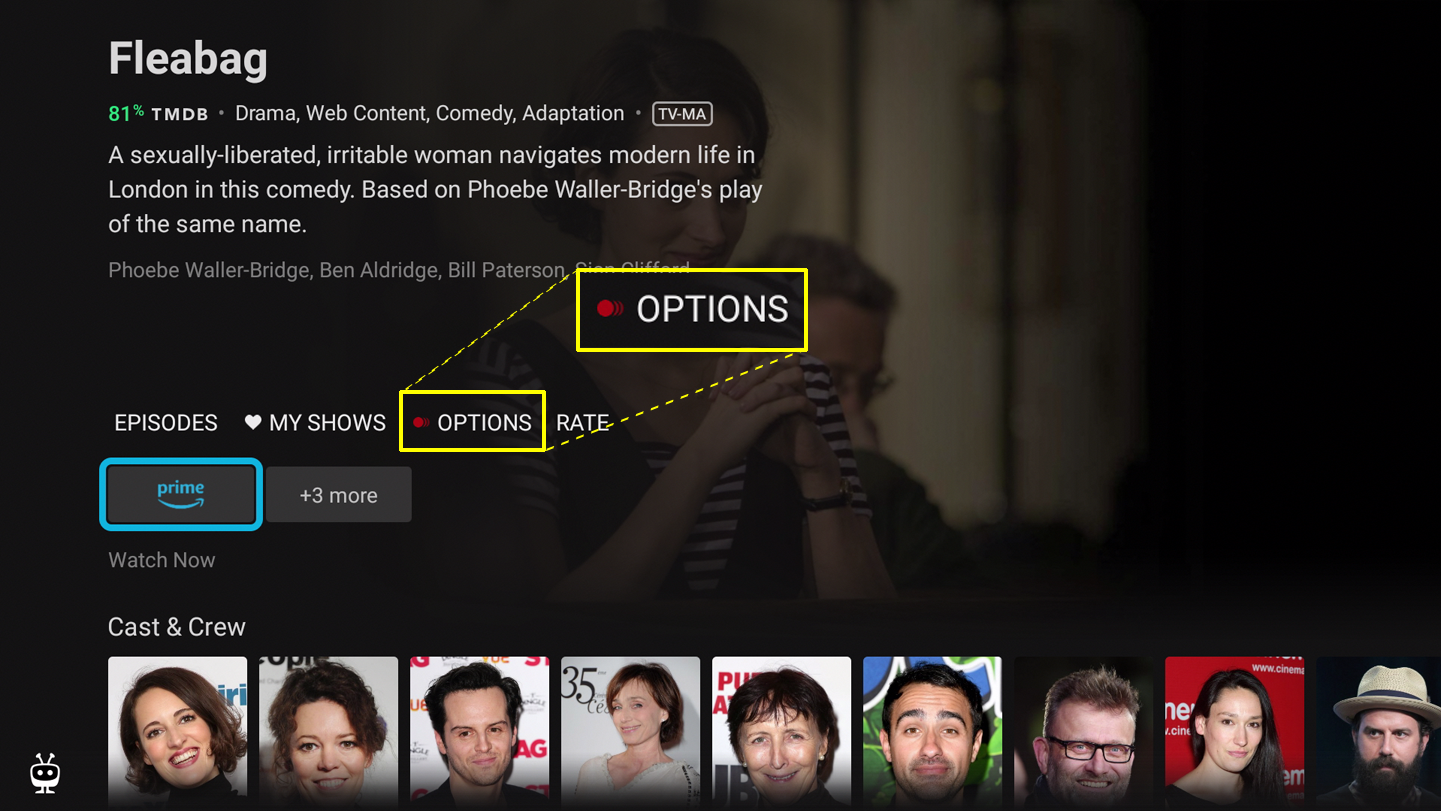 Deleting Recordings
If you need to manage recording space, you may need to delete recordings. Here's how:
Press UP to see the filter bar and choose Recordings.
Highlight a show with recordings you want to delete. You can see how many recordings exist for a series by highlighting it and looking beneath  the series title.
To delete all recordings, press and hold OK/SELECT on the highlighted show, then choose Delete all recordings for this series. To prevent new episodes from recording, press and hold OK/SELECT again, and this time select Cancel series recording.
To delete a single recording, press (but don't hold) OK/SELECT on the highlighted show. Then choose Episodes. Recorded episodes are listed at the top of the screen. Highlight one, press and hold OK, then select Delete this recording.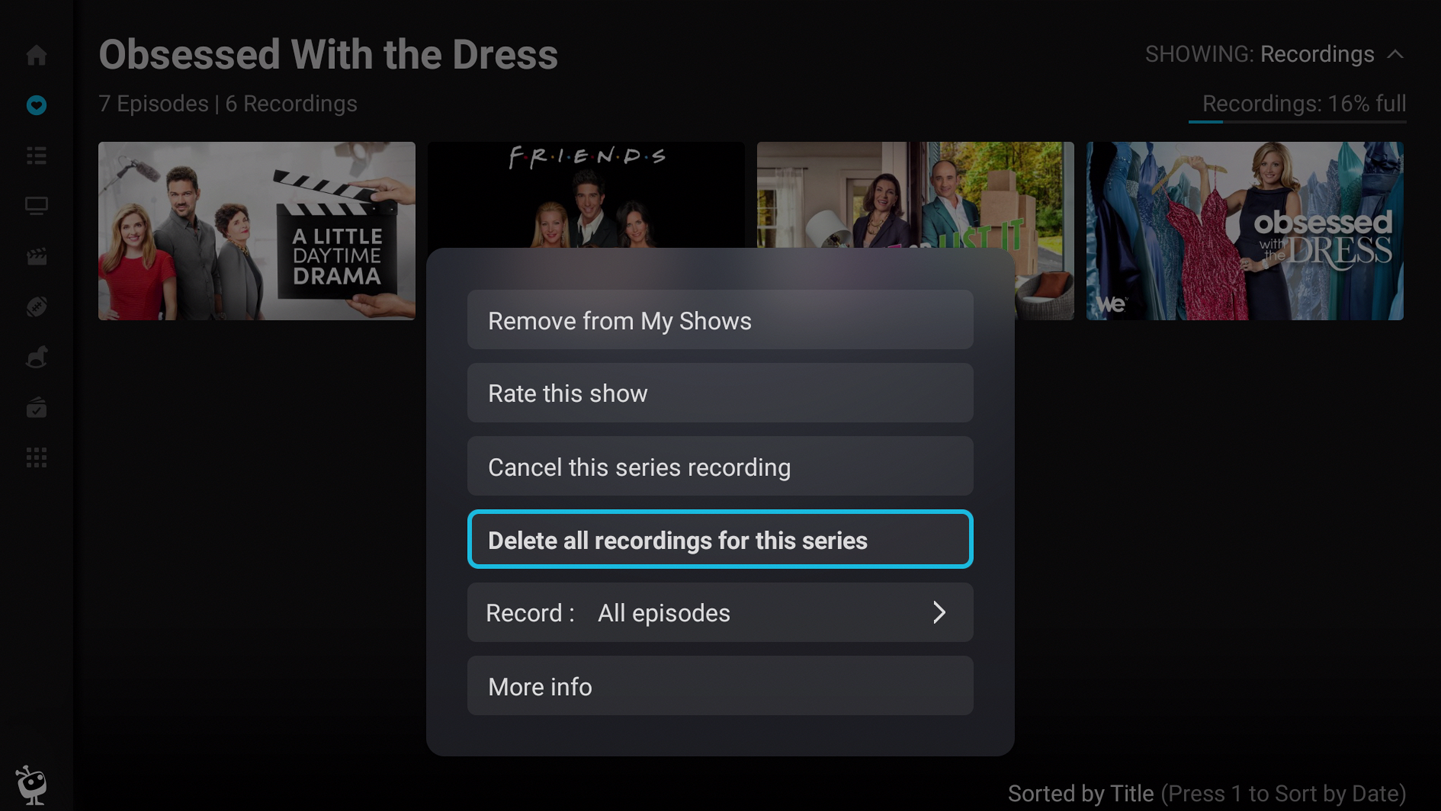 To learn more about managing My Shows, check out the video.

Sling and the Sling logo are trademarks of Sling LLC. Amazon, Prime Video, the Prime Video logo, and the Amazon.com logo are registered trademarks of Amazon.com, Inc. or its affiliates. All other trademarks are the property of their respective owners.