The first time you turn on TiVo Stream 4K, you'll follow on-screen prompts to set up your device, activate it, and personalize your TiVo experience.  From there, it's one short step to everything you want to watch.
Watch the video for a quick overview, then get all the details below.
---
Step 1: Set Up Device
Install TiVo Stream 4K as shown here, or follow the instructions that came with your device. Then you're ready to begin setup.
When TiVo Stream 4K starts up, you'll a screen prompting you to pair your TiVo remote with the device. (For more instructions on using your TiVo Stream 4K remote control, click here.)




On the next series of screens,you'll choose a language, connect your device to your home network, and follow a series of on-screen prompts to set up your device. 
During setup, you will be prompted to sign in to your Google account. With a Google account, you can use your voice to search for shows, open apps on Google Play, and more with Google Assistant. No Google account? Sign up now. Note that you do not ned a Gmail address to create a Google account.
Step 2: Activate
After device setup, you will come to an activation screen. Using a computer or mobile device, open a browser and go to tivo.com/activate/stream4k to enter the activation code.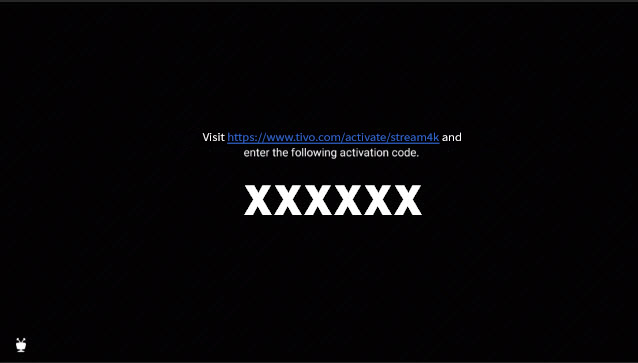 Step 3: Personalize
Once your device is activated, you're ready to personalize your experience. 
First, you'll be asked to choose your favorite from pairs of shows. These choices tell the TiVo Stream app what kinds of programs it should show you first. 




Next, you'll add TV shows and movies to My Shows. My Shows is your all-in-one watch list within the TiVo Stream app. It contains all of the shows and movies you add (both during setup and any time after), no matter which of your supported video providers has them available. Add the shows that you currently watch or would like to watch, so you can find them in a snap later. (Don't worry, you can add TV shows and movies any time, not only during setup.)




Last, you'll choose the subscription, free, and rental streaming services that you use or are interested in using. Shows from these services will be included when searching or browsing in the TiVo Stream app. For the best results, make sure to select as many services as possible, and be sure to include Sling. Note that subscriptions to these services are required to watch content. Learn more about streaming apps. 



Step 4: Launch the TiVo Stream App
When on-screen setup is complete, you'll see the Android TV home screen.The Android TV home screen contains the TiVo Stream app and any other app you download on Google Play. Always use the TiVo Stream app to find and watch shows. Learn the difference between the TiVo Stream 4K, TiVo Stream app, and Android TV.
Press the TIVO button  on your remote at any time to launch or get back to the TiVo Stream app. 

Google, Android, YouTube, Android TV and other marks are trademarks of Google LLC. Sling and the Sling logo are trademarks of Sling LLC. Amazon, Prime Video, the Prime Video logo, and the Amazon.com logo are registered trademarks of Amazon.com, Inc. or its affiliates. Netflix and the Netflix logo are a trademarks of Netflix, Inc. All other logos and trademarks are the property of their respective owners.