Streaming & downloading to your mobile device
Watch TV, stream shows from your TiVo box or other streaming providers, and even take your recordings on the go! With a supported TiVo box and the free TiVo app, you're ready to get started.
This feature is available on:

Any TiVo DVR (older DVRs may require a TiVo Stream accessory to stream and download)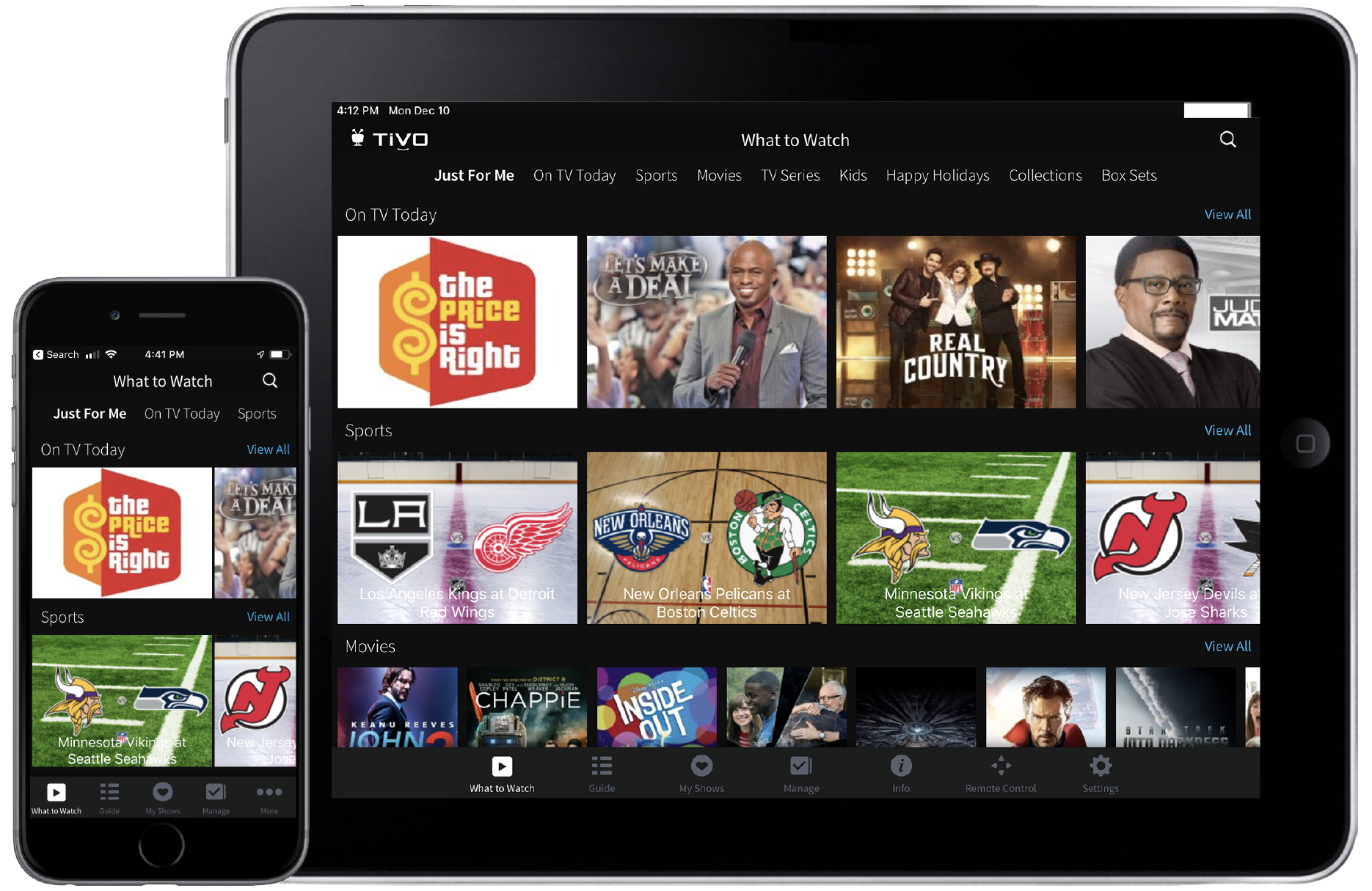 ---
App setup
Before you begin, make sure you are running the latest iOS software and that you have a compatible TiVo box connected to your home network.
Download the TiVo app from the iTunes App Store or Google Play. It's free! If you already have the app, make sure you are running the latest version, with no updates pending. (Note: The TiVo app will not run on jailbroken devices.)
The first time you launch your TiVo app, you'll go through a one-time set-up process. It only takes a minute.
Launch the TiVo app.
Sign in to the app using your TiVo.com username and password.
If prompted, select the primary TiVo box to use with the app. (You will only be prompted if you have more than one compatible box on your home network.) You can always switch to a different TiVo box later.
You will be prompted to set up in-home and out-of-home streaming. If you are not prompted automatically, complete setup and then go to Settings. Choose Start Setup  in the  Streaming & Downloading section.
---
Streaming shows
You're a few taps away from watching live TV, recorded shows, and shows availabe from streaming providers (like Netflix) wherever you are – even if you're away from home.
 Find a show to watch in the Guide, What to Watch, or My Shows.
 Tap the show title.
 In the preview window at the top of the screen, tap the PLAY icon; or, tap beneath the PLAY icon to display additional streaming options. For live shows, choose Record & Watch (your TiVo box will start recording the show and streaming it to your mobile device immediately). 
---
Downloading shows
If you want access to your recordings when you don't have Internet access (in the car, on a plane, etc.), download them to your mobile device.
Tap My Shows, and find a show that has recordings. The number of recordings appears  to the left of the show title. If no number appears, only streaming shows are available. (Streaming shows can't be downloaded.). 




Tap the title of the show to go to the Series page. To limit the list to only recordings, select Recordings from the drop-down menu.




Tap the episode title, then tap the download icon.




Choose a download quality, then tap Download With These Options." Note that Best quality downloads will take up more space on your device than Medium or Standard quality downloads.
Tap My Shows > Downloads to watch your downloaded shows. 
Note: Downloaded shows are available to watch only from the TiVo app. If you uninstall the TiVo app, the downloads will be deleted from your iPad/iPhone.