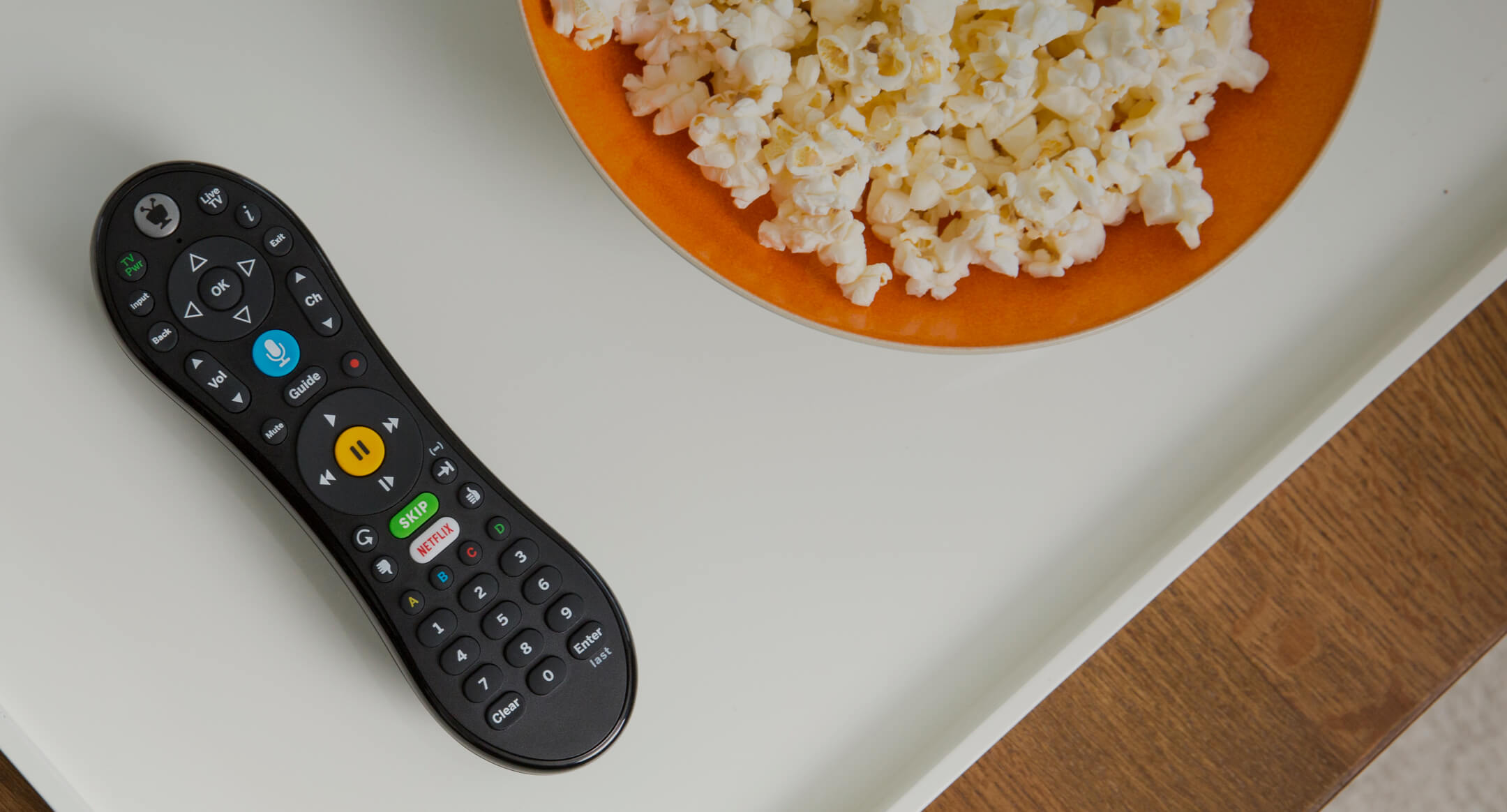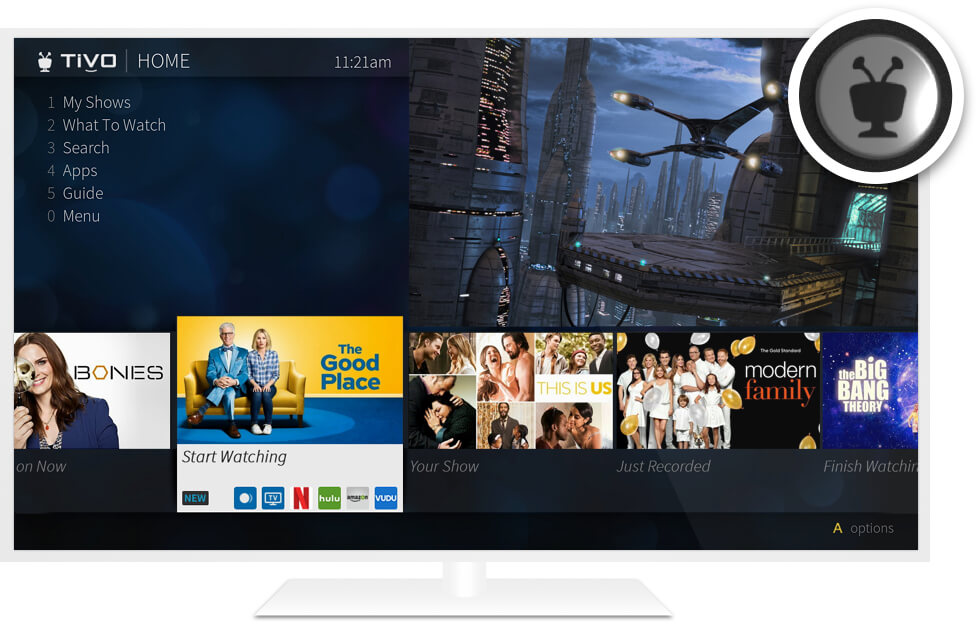 TiVo Home, your entertainment headquarters.
The starting point for the TiVo Roamio OTA VOX™ experience is the TiVo Home screen. Get there by pressing the TiVo button on the top of your remote. From here, you can go to My Shows, where you'll find all your recorded and streaming content, or browse for something new to watch. Even better, you can do it all using your voice! The Home screen is also where you can manage your OnePass™ requests, see what's scheduled to record, or customize your experience.

Complete control with the power of your voice.
The TiVo VOX Remote™ takes the functionality of the classic TiVo remote and adds a super power: voice control. The VOX Remote lets you speak naturally and gives you the ability to narrow your search results as you go. Search for shows, tune to a channel, ask for recommendations... it's all on the tip of your tongue.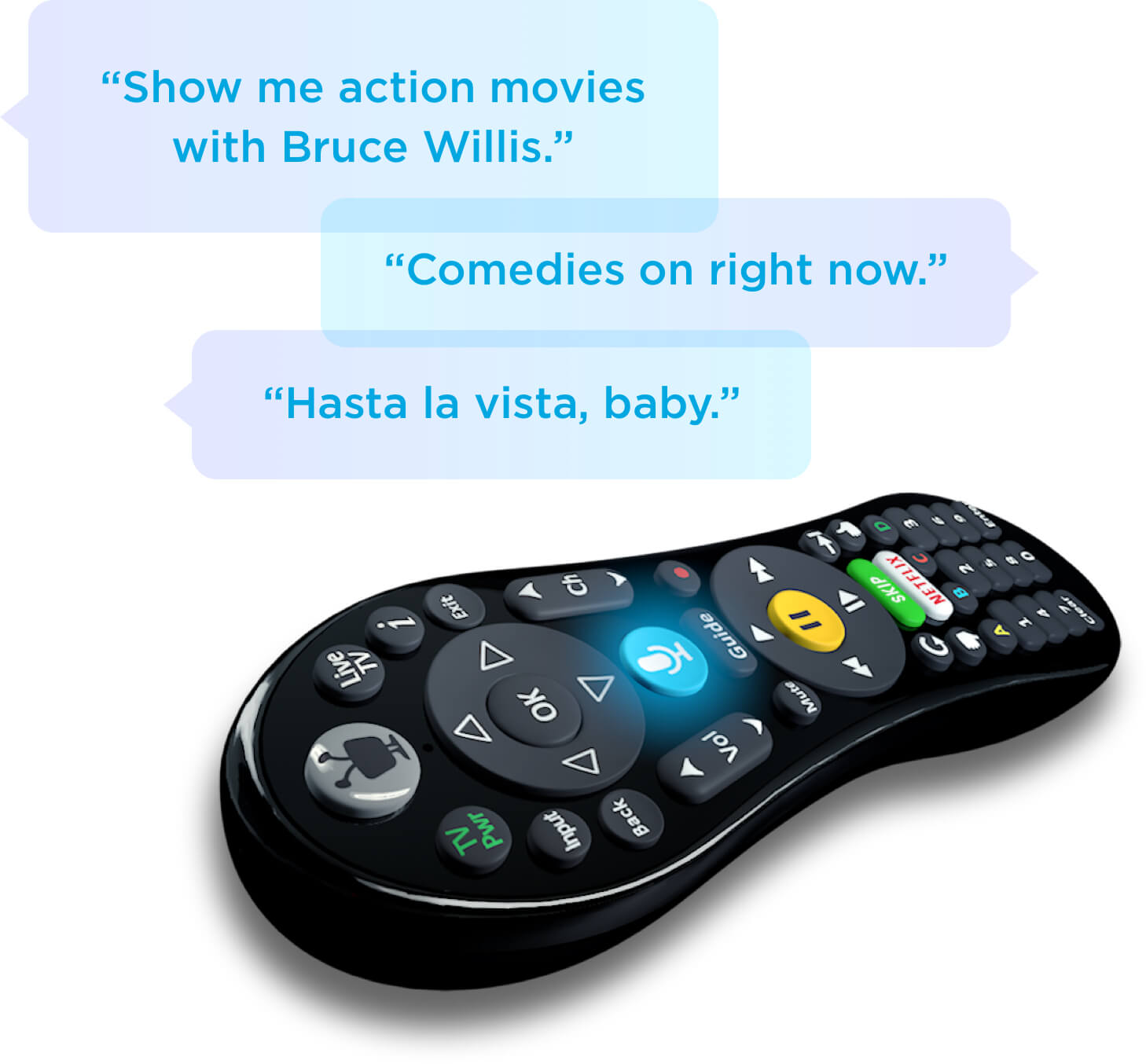 Here are some things you can do with voice:
•    Tune to a channel: "Watch HGTV."
•    Browse for something specific: Start with "Show me Chevy Chase movies." When you see the resilts, narrow your search: "from the '80's, on Amazon."
•    Tell the remote to "Skip it" for skip-enabled shows and jump past the commercials instantly.
•    Look for shows on your favorite apps: "Show me kids' shows on Netflix."
•    Search for a genre or your favorite star: "Are there any cooking shows with Paul Hollywood?"
•    You can even ask for your favorite sports team: "When are the Warriors playing?"
Watch at your own pace.
The SkipMode™ and QuickMode™ features give you more control than ever before over your entertainment experience.    

SkipMode
The TiVo Roamio OTA VOX skips entire commercial breaks with the sound of your voice on certain recorded shows. Just say "Skip it" to jump past the commercials.1 If you like buttons, you can also press the SKIP button on your remote to use the SkipMode feature. You'll know SkipMode is available on a show a few minutes after a show has finished recording — just look for the SKIP icon next to the show title in My Shows.
What channels and times are eligible for SkipMode? See complete list.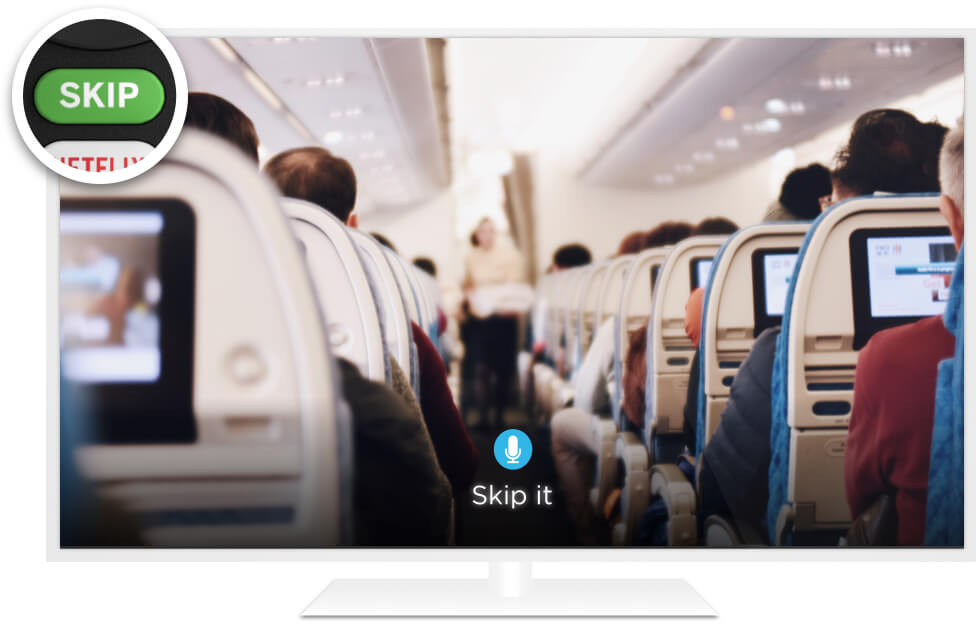 QuickMode
QuickMode lets you watch recorded shows and sports 30% faster than normal speed — without the sound getting squirrely on you. It's great for getting through the dull stuff without missing any of the action. When you're watching a recorded show, turn QuickMode on by pressing PLAY then pressing SELECT when the TrickPlay™ bar appears.
Additional resources: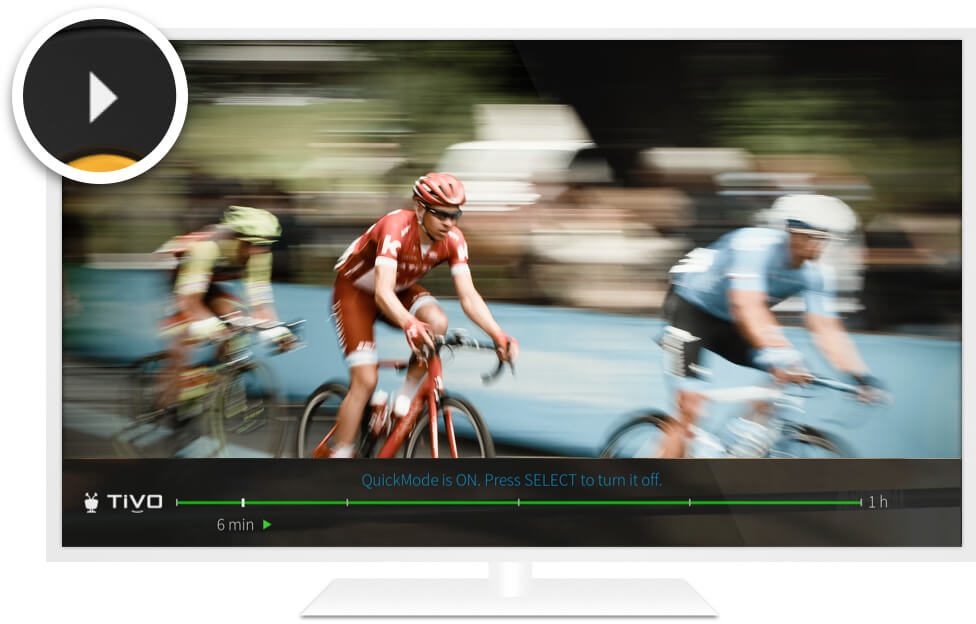 Smart Home Compatible
The TiVo Roamio OTA VOX works with Alexa, enabling any Amazon Echo smart speaker to perform key TiVo commands using only your voice.2 Change channels, skip ads, launch apps and more without a remote. Even when your hands are full, you can still fast-forward, rewind and pause recorded shows for the ultimate untethered entertainment experience. 
Additional resources: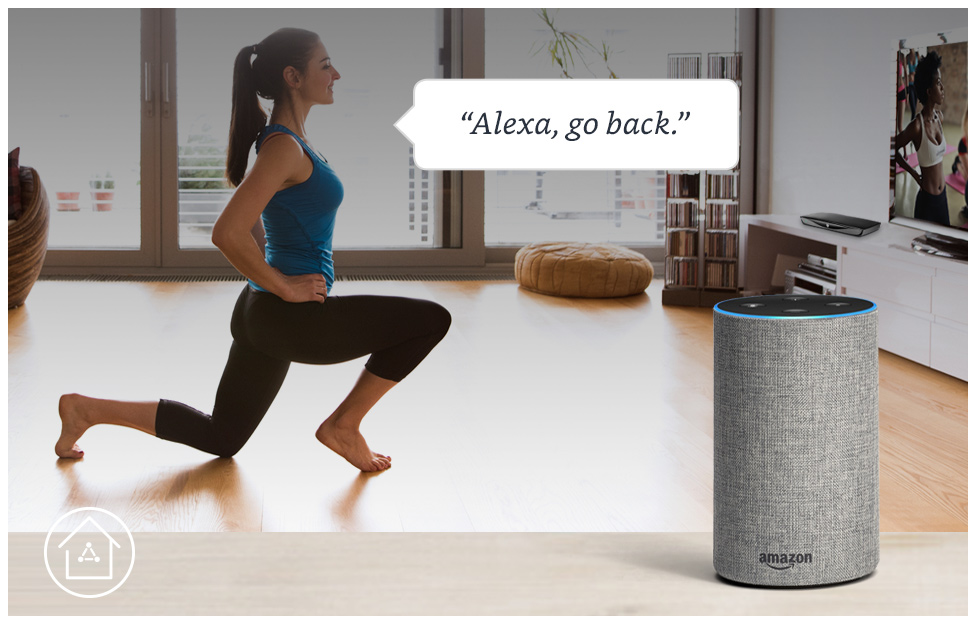 Don't miss it. Schedule it. 
Roamio OTA VOX makes it easy to record or bookmark all the shows you love so they're waiting for you to watch. Simply set up a OnePass or a WishList® search.
OnePass™
Take the stress out of remembering to record each episode of your favorite TV series. Simply set up OnePass to gather every available episode of your favorite show from TV or streaming options such as Netflix, Amazon, Hulu, HBO GO, on demand (if available) and other streaming sources.3 You can even set up a OnePass for a sports team or league. Learn everything you need to know about OnePass here.
Additional resources: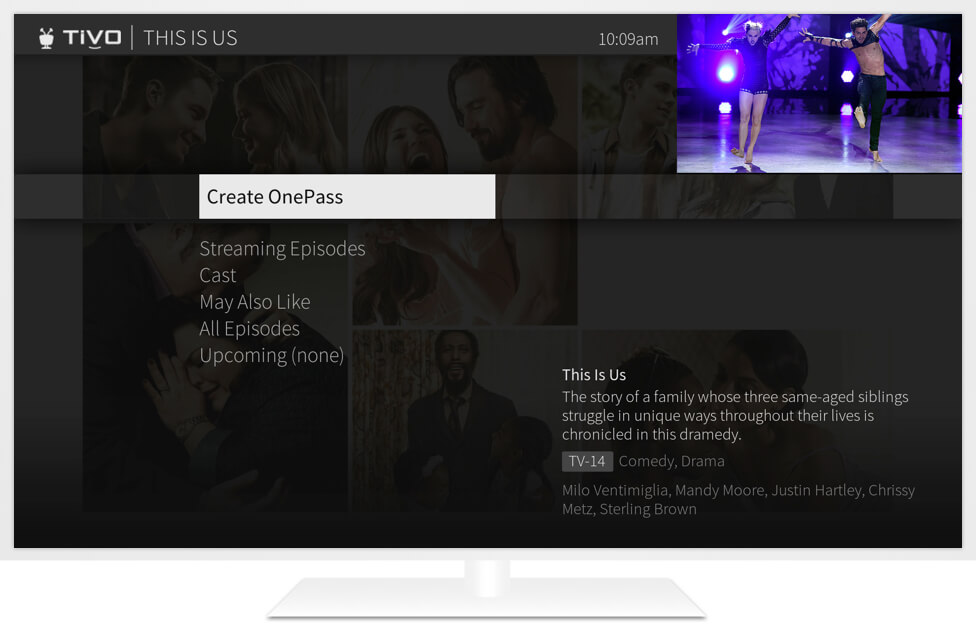 WishList Search
If you know what you like, but aren't sure when it's on, just create a WishList search. Search by actor, director, keyword or category and every time a show matching your criteria airs, it's recorded.
Additional resources: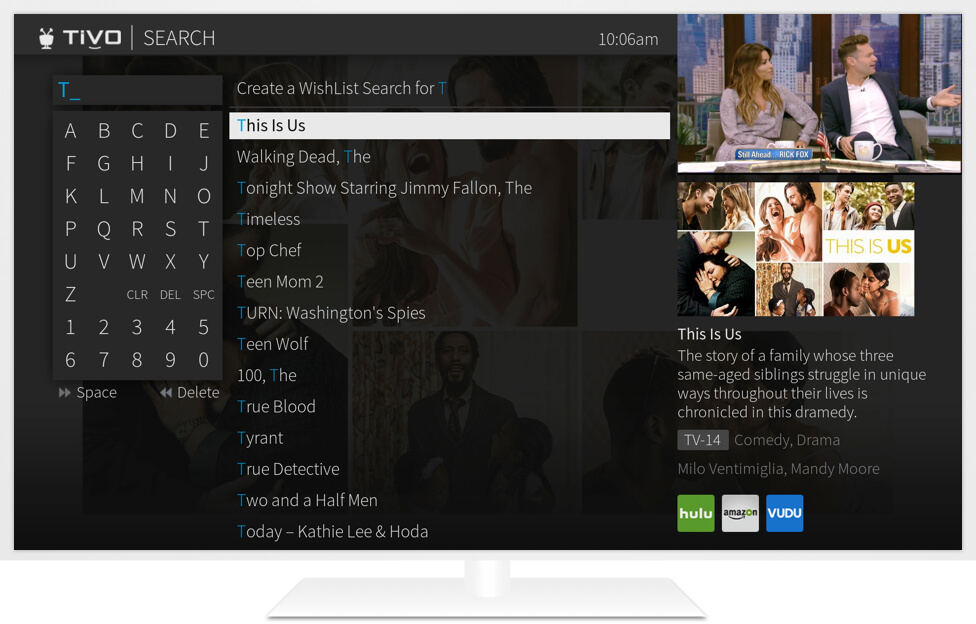 Schedule recordings and more with the TiVo app.
Using the free TiVo app for mobile devices, you can schedule and manage shows when you're away from home. With the TiVo app, you can also watch live and recorded TV around the house or around the world. 
Additional resources: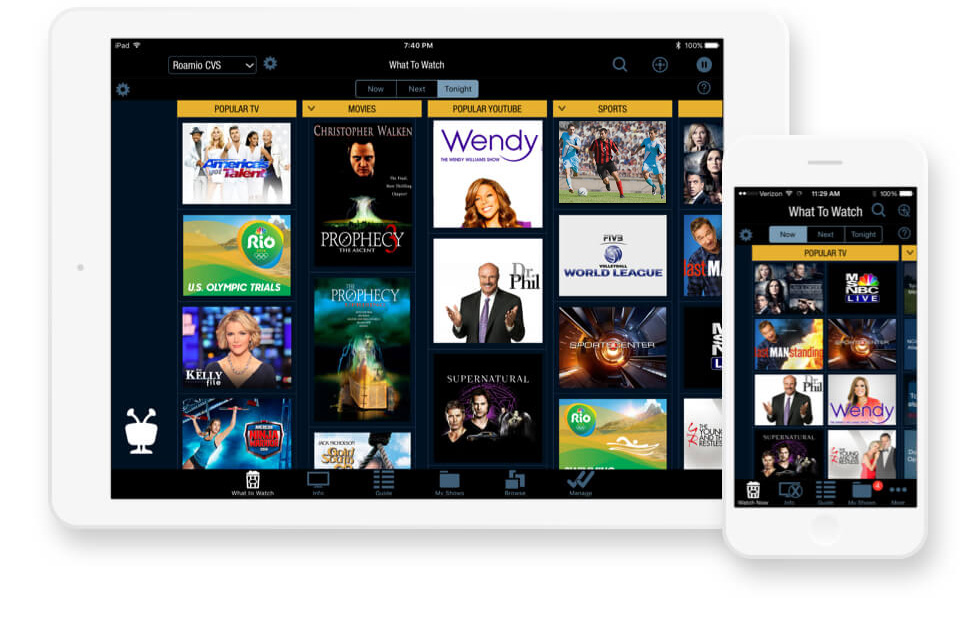 Schedule your recordings online.
Forget to schedule a recording? Don't panic. Access TiVo Online™ from any web browser to search for shows, browse air times and channels, schedule recordings or set up OnePasses, and watch shows online. Just visit online.tivo.com and sign in with your TiVo.com username and password.
Additional resources: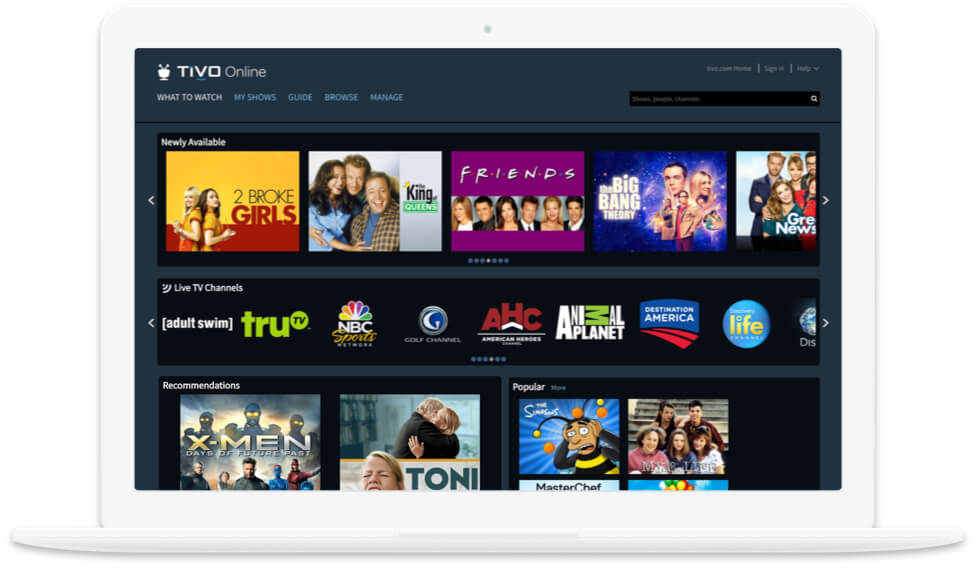 Setting up recordings is even easier with OnePass Quick Select. 
With TiVo's OnePass Quick Select, schedule all your favorite OnePass shows with a single click. Quick Select gives you a quick view of the most popular shows on TV and lets you create a OnePass for multiple shows on one screen. Check it out at TiVo Online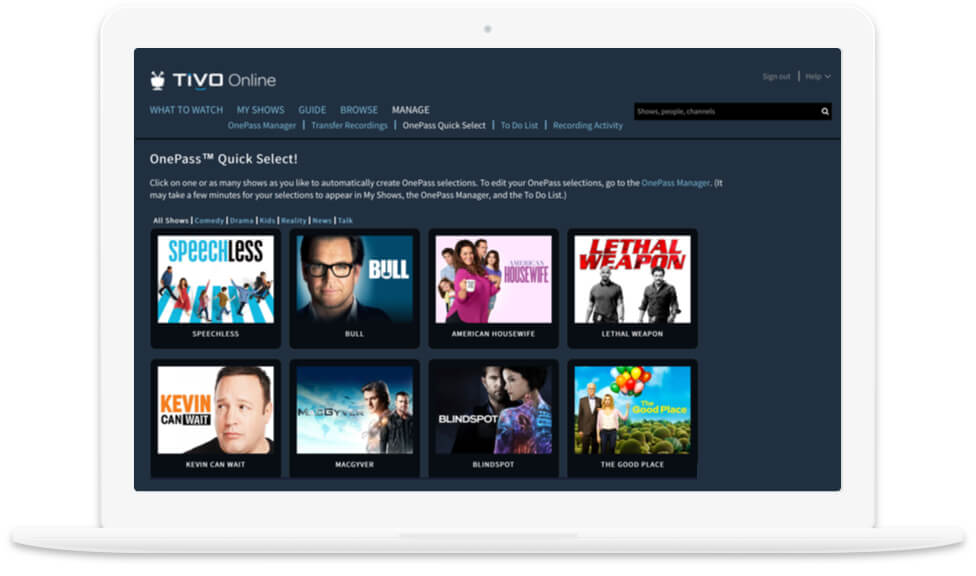 Transfer recordings and OnePasses from another DVR.
Go to the "Manage" section at TiVo Online to transfer your OnePass/Season Passes. Simply select the TiVo box you want to transfer shows or OnePasses from, and select the box you want to receive them. Then just choose the recordings/OnePasses to start the transfer.
Additional resources: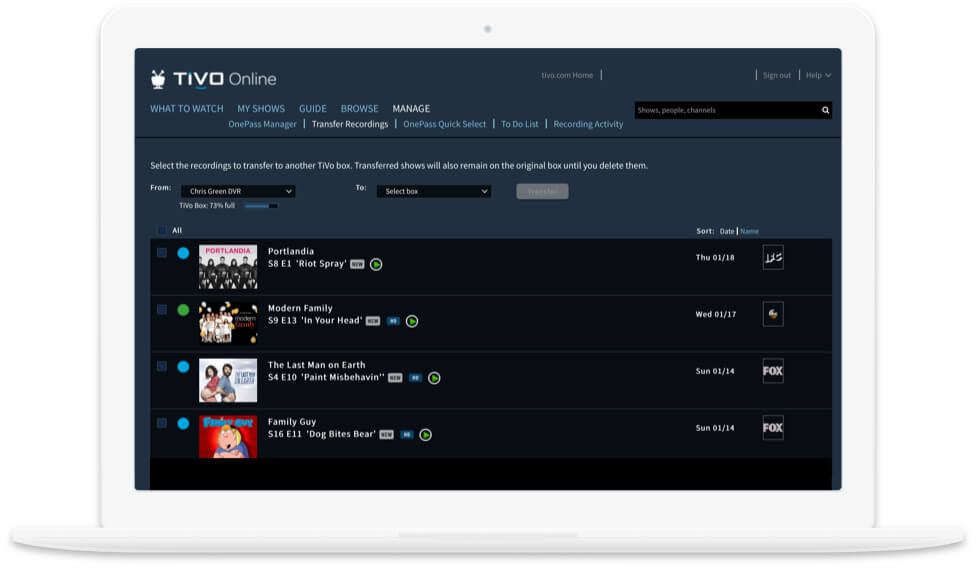 Quick Tour of Quickview™
Have you ever been stuck watching a commercial break or slow-moving game, wondering what else is on but not wanting to channel surf? Problem solved. While you're watching live TV or a recorded show, QuickView lets you see what else is playing now or coming up without missing any of what you're watching.

With just a click of your remote control, QuickView panels appear over what you're watching. In each panel, use the UP/DOWN or LEFT/RIGHT buttons to move around. Press OK to switch to channel, tuner, or show that's airing, or to set up a recording.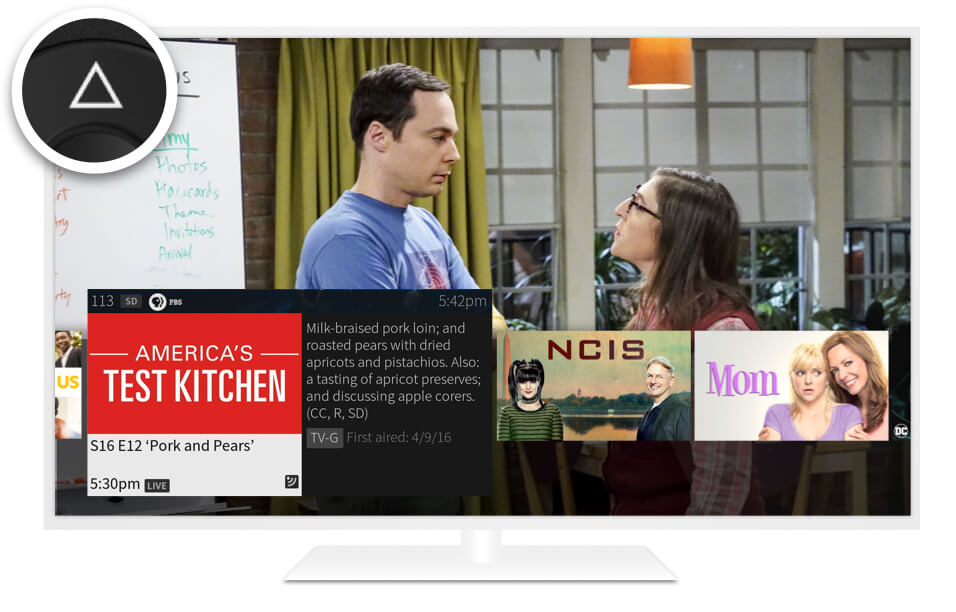 UP: Channel Surfing
UP shows you what's coming up on live TV. To close this panel, press the 'Back' button.
Additional resources: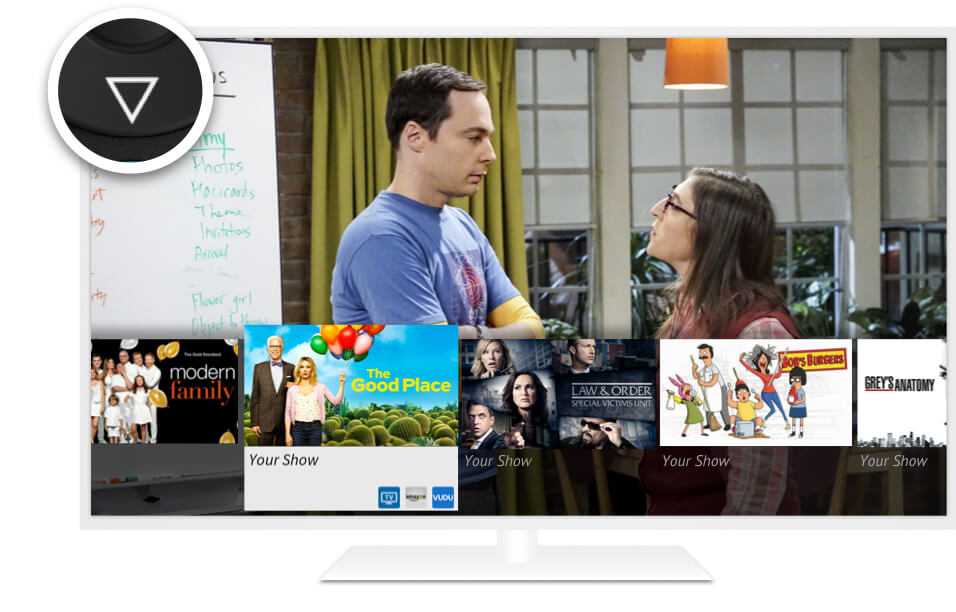 DOWN: SmartBar
DOWN displays the SmartBar, with quick access to the shows you watch regularly, based  on the current time and day of the week.
Additional resources: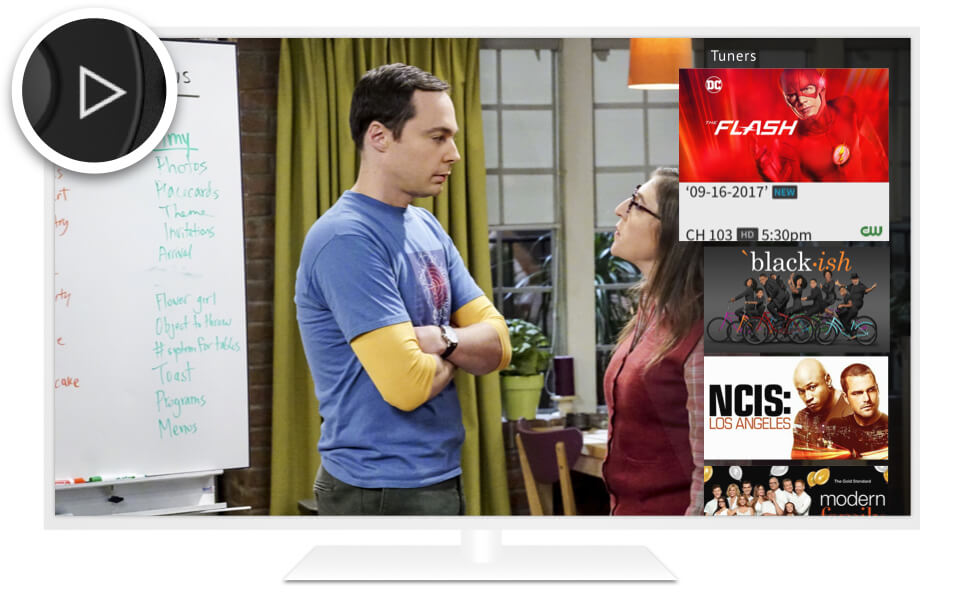 RIGHT: Tuners Panel
RIGHT shows you what's playing on other tuners.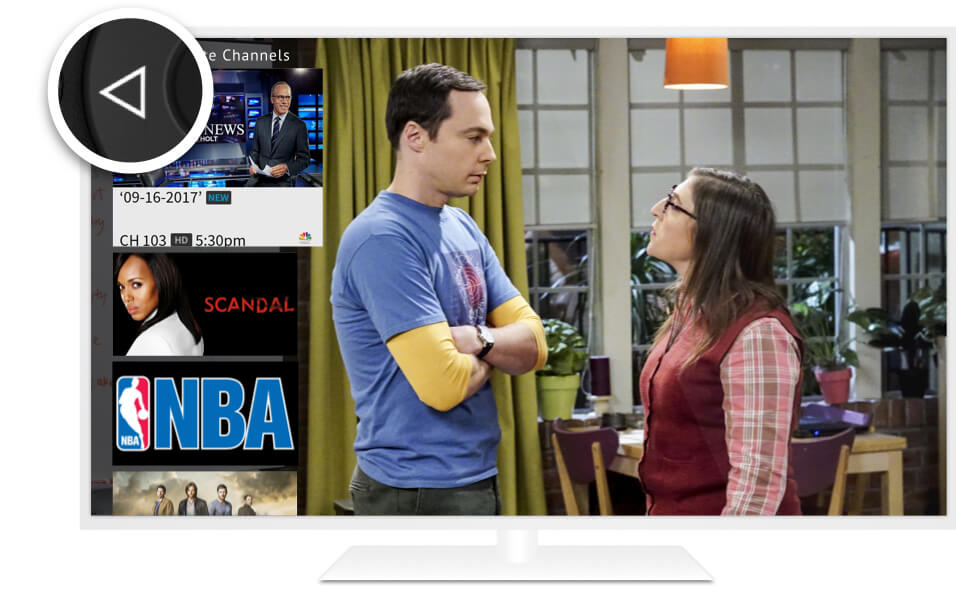 LEFT: Favorite Channels
LEFT brings up your favorite channels. You can set your favorites in Menu > Settings > Channel Settings.
1 SkipMode feature not available for all recorded shows.

2 Requires a separately purchased Amazon Echo smart speaker. Internet connection is required to access and utilize smart home functionality.
3 Broadband Internet connection is required to access and receive streaming content. Availability of streaming content from third-party sources is subject to change, and certain third-party fees may apply.

© 2018 TiVo Corporation. All rights reserved. TiVo, the TiVo logo, the TiVo silhouette logo, TiVo Roamio OTA VOX, TiVo VOX Remote, OnePass, SkipMode, QuickMode, TiVo Online and SmartBar are trademarks or registered trademarks of TiVo Corporation or its subsidiaries worldwide.